. . . and gets a standing ovation
Following the luncheon, guests & authors signed books and posed for group pictures before Dr. Williamson retired for the afternoon





(seated)

Frederik Pohl, Dr. Williamson, Jim Williamson (Jack's brother)


(standing l to r)

Connie Willis, Gary Williamson (Jim's son) Nancy Williamson (Jim's wife), Milz Bickley (Betty's husband), Katie Bickley (Milz & Betty's daughter), Betty Williamson (Jim's daughter)

Whew! Got all that?



Chicago-based fan, collector and Williamson-admirer Richard Kaminsky with Dr. Williamson holding a copy of

Amazing Stories,

December 1928-the issue includes "The Metal Man," the author's first published story.

---
Afterward, many guests & attendees paid a visit ENMU Golden Library's Special Collections department that houses a wealth of material on regional history as well as the Jack Williamson Science Fiction Library. The collection now includes 13,000 volumes of science fiction works, both fiction and non-fiction. It includes books, SF pulps dating back to the early 1900's, manuscripts, correspondence, photographs, and many other items. Many of these were donated from Williamson's personal collection.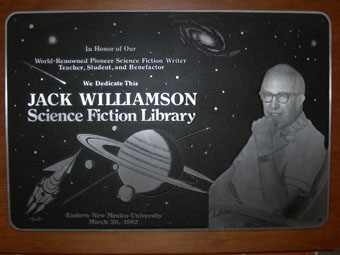 More information can be found following this link:
http://www.enmu.edu/academics/library/collections/williamson.shtml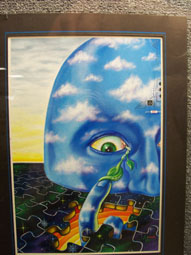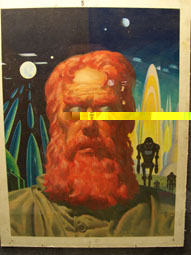 Also on display in the lobby of the Golden Library
is
ENMU's first Science Fiction/Fantasy art show through March. Paintings, drawings, photographs, collages, and other 2D work or small sculptural pieces with a science fiction or fantasy theme are being exhibited. The works above are the original paintings for "The Mental Man,"
Amazing Stories
1988 by Robert Pasternak and ". . . And Searching Mind,"
Astounding Science Fiction
1948 by Hubert Rogers.






Special Collections Czar Gene Bundy chats with Stan Robinson . . .

. . . while Connie Willis holds court . . .
(photo courtesy of Wendel Sloan)

. . . and Stephen Haffner continues to collect material for more books

---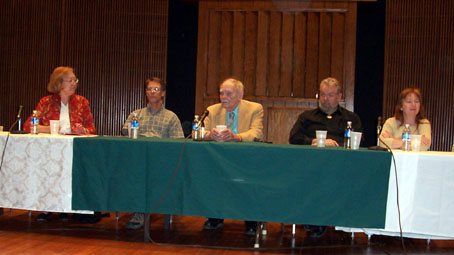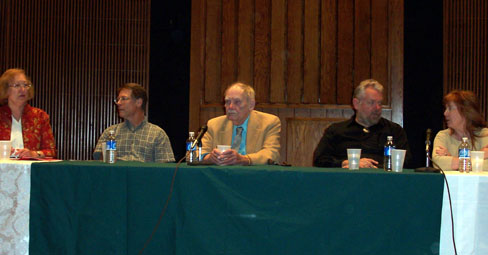 Connie Willis moderates (again!) the evening panel on "Ecological Apocalypse." The discussions lasted for just over an hour and ranged widely from alternative fuels and modifying life-styles to the state of the literary genre and what possibilities science fiction writers may tackle in the current market.
The 10 remaining busts available for sale outside the auditorium after the evening panel.
They are all sold out!

New Mexico meets Michigan!
Patricia Rogers of Albuquerque poses with Stephen Haffner of Royal Oak

The images on this cake are part of a larger mural that adorns the length of the Special Collections Department at ENMU

---
Friday morning a caravan of eight vehicles made a pilgrimage to the Williamson Ranch approximately 35 miles south of Portales.
| | | |
| --- | --- | --- |
| | | |
| Entering the Williamson compound | We don't see this in the Midwest! | Horses! Three horses! Horsi? |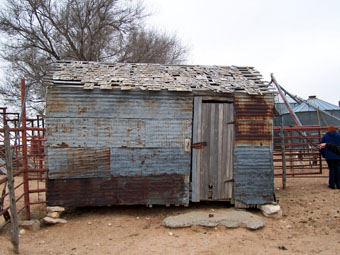 This is interesting. Past Lectureship attendees that have been out to the Williamson Ranch are taken past an abandoned structure on the way out to the property proper. This building was rented by Jack Williamson's parents for a time. However the building in the above photo, which has been refinished in metal sheeting and used as a saddle room, is the original structure discussed in Williamson's autobiography,
Wonder's Child: My Life in Science Fiction.
Although boarded-up, the wall on the right side of the building has window to which a covered wagon was drawn-up against and served as a bedroom for Jack and his siblings.
| | | |
| --- | --- | --- |
| | | |
| Inside the structure | "Hmmmmm, what's that shiny stuff?" | Don't drink that! It's nitroglycerin! NOT! |
Jack Williamson's cabin on the ranch, built in the early 1930s as a place to live & write in privacy.

Patricia Rogers, Richard Kaminsky & Stephen Haffner. This picture is going to Ray Bradbury along with one of the busts.

The Albuquerque Bunch
Wendy Jay, Craig Chrissinger & Patricia Rogers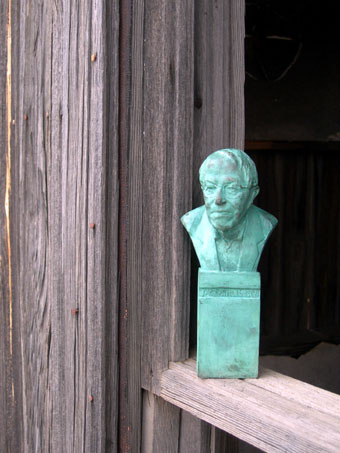 See you next year!